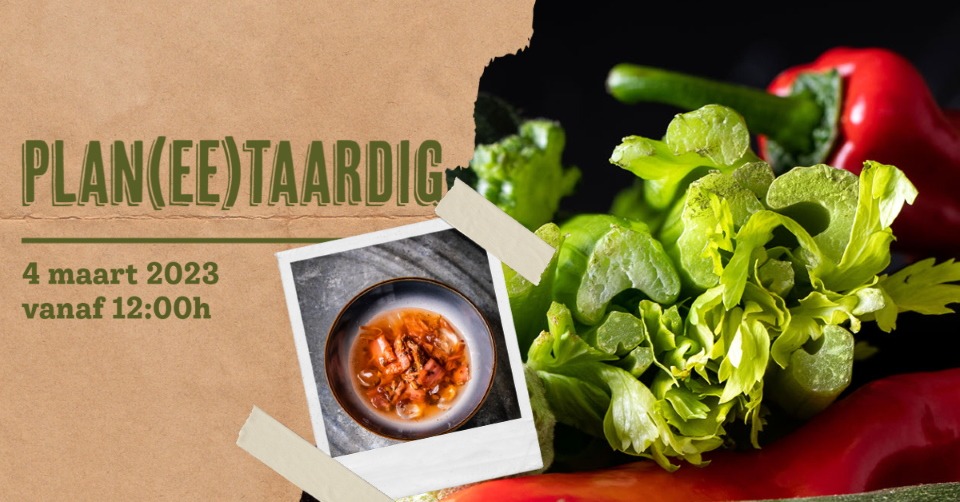 Plan(ee)taardig! Inspiration for plant-based food
Saturday 4 March 2023 | from 12:00 | SmaakPark, Connectorsweg 51a, Ede
Vegan and local food is better for our planet. It's up to you how much you want to integrate more plant-based food into your lifestyle. On Saturday 4 March, SmaakPark organizes the event 'Plan(ee)taardig!' to inspire visitors with food stands, demonstrations and lectures about plant-based food. From 16h there is also a market with innovative producers, including some from StreekWaar, who want to inspire you with a plant-based assortment of products.
Program (free to attend):
12:00 – Food stands with the most delicious plant-based dishes, and drinks at the bar
14:45 – 15:45 – Lecture (NL) | Emile Samson (Foodlab SmaakPark) "Umami in vegetarian/vegan cuisine. How to add 'de oomph' to your vegetarian/vegan dish"
16:15 – 17:00 – Lecture (NL), Meet & Greet | Jessica Koomen "Year-round harvesting and eating from your ecological vegetable garden"
18:00 – Lottery Draw | You can win great prizes (provided by the makers/sellers). Lottery ticket: €1,00 each / 10 for € 8,50
16:00 – 20:00 – Market | Innovative producers, makers and suppliers with a plant-based range
Market stalls
Cook & Book – the latest cookbooks and the most beautiful classics with a green outlook can be found at Riejanne.
Jessica Koomen – vegetable hobby gardener and author of het Seasons Moestuin, Jessica will give a lecture (in Dutch) followed by a meet & greet, her book will also be for sale.
Mooyland Cider – makes delicious fresh ciders with special apples and pears from orchards in the Drenthe province, according to a traditional recipe.
SmaakPark Foodlab – with fermented plant-based seasonings for some 'oomph' in your vegetarian/vegan dishes.
Streekwaar – food makers from de Gelderse Vallei. Together with nature, they provide sustainable, local and healthy food on your plate. The season, sun and rain determine what is harvested and made.