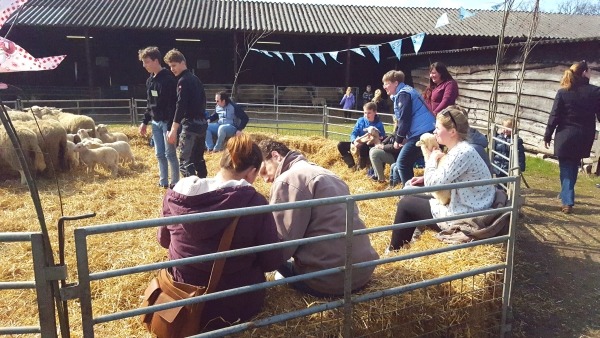 Lambs day – Grebbeveld Schapen &zo
Saturday 19 March 2022 | 13:00-17:00 | Langesteeg 21, Bennekom | tickets: € 4 (from 2 years old)
Have you ever wanted to pet and cuddle lambs? Then join Lambs Day at Grebbeveld Schapen &zo on the 19th of March! Children and (grand)parents are welcome to visit the newborn lambs. There will be many other fun activities too, such as sheep herding demonstrations, the straw castle and 'beschuit met muisjes'.
Lambs Day! Finally possible again after two cancelled editions. You are very welcome to the stables of Grebbeveld Schapen &zo on Saturday 19 March from 13h to 17h to enjoy spring. Let's just hope the weather is nice. And if not, we'll just pet the lambs inside. And, of course, there will be crafts, good food and drinks, sheep herding demonstrations and the straw castle.
Fee: € 4 per person (from 2 years old). This includes a coin which you can use for a drink and 'beschuit met muisjes' (rusks with butter and – blue or pink – sugared aniseeds, especially eaten in the Netherlands when a baby is born), or for a craft.
The Lambs Day is around the stable of Grebbeveld Schapen & Zo, Langesteeg 21, Bennekom.
There is plenty of parking space in the meadow, but you can also come by bike: easily accessible from Wageningen, just cycle straight on from the Hoge Born.
NB: A lambing shed is not suitable for pregnant women! If you are pregnant, it is better to let the children come to the Lambs Day with daddy/grandma/uncle/the neighbor!