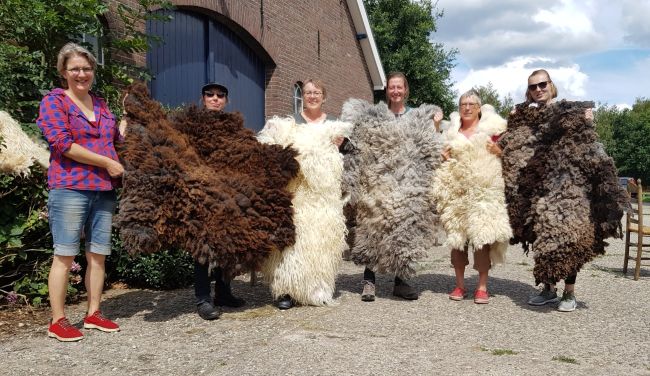 Sheep fleece felting workshops @Grebbeveld
Whole fleece felting workshops | all autumn 2022 | Grebbeveld Sheep &zo, Langesteeg 21 in Bennekom
Make your own environmentally and animal friendly felted sheep fleece with Marjel van Grebbeveld! Throughout the autumn, Marjel holds several whole fleece felting workshops at their sheep farm Grebbeveld Schapen &zo in Bennekom. Using whole fleeces from their own herd, you go through the process of felting fleece yourself. It's a fun activity to do together, and you also get creative by decorating the felted side. Next scheduled workshop: September 23.
Marjel: "With whole fleece felting you make a 'vegetarian fur' by felting a shaved fleece on a woolen surface. It then looks like a sheepskin, but is from a sheep that is still grazing around! The nice thing is that you can do it in any shape you want (round, oval, square, heart-shaped), or just the natural shape the sheep's fur as it came out."
Grebbeveld Schapen &zo is a sheep company specialized in grazing natural areas, founded by Clemens Oude Groeniger and Marjel Neefjes. The couple's two herds of sheep graze nature reserves and dikes on the South-Veluwe and the Utrechtse Heuvelrug. In addition to felted fleeces, Grebbeveld also sells lamb meat.
> All workshop dates and the registration form can be found on the website of Grebbeveld Schapen &zo (NL)