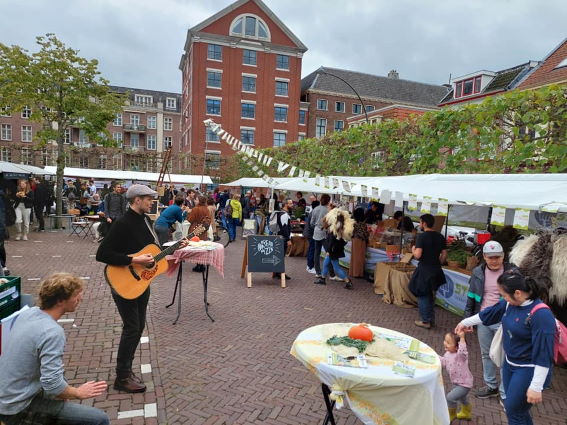 Summer market 2022
Time to celebrate the summer! The StreekWaar market will be even bigger during the Summer market on Saturday, June 18, 2022. From 9:00 to 17:00 there will be live music, extra live cooking and local art on the Salverdaplein.
Summer is the season of abundance! The StreekWaar market is then packed with fresh local vegetables. For your summer groceries we have it all: get our locally brewed beers and lamb chops or vegan alternatives for a BBQ – we even have a local hot sauce for you to have on the side. Or maybe you want to plan an aperitif? We have kombucha, juice and cider with goat or cow cheese, to accompagny with some walnuts. And you'll find everything you need to make fresh salads. Have you tried the Gelderse barley risotto yet? With pearl barley from GraanGeluk, grown in the region.
And the best of all is: all products at the StreekWaar market stall are produced within a 15 km radius of Wageningen, with respect for nature, the environment and people.
Program summer market:
Music:
12:30: singer-songwriter Vincent from the band Driftwood, early British and Amercian folk.
14:30: Anna's Ex-neighbours, soft pop music
Live-cooking:
Lamb chops on the BBQ (Grebbeveld), Gelders barley risotto and barley salad (GraanGeluk),
Falafel from lupine en coffee with pie (Vreemde Streken),
Bakpaos filled with oyster mushrooms, tempeh or beef (Sayuran)
Art: Marten Mulder, Dagmar, Henk Ruitenbeek and Marleen's sheepies