Grebbeveld Schapen &zo recently delivered a lamb to the restaurant of Hotel de Wereld. Sous-chef Mev wanted the lamb whole, to portion it himself, and to make delicious recipes with it. The result: restaurant LEV de Wereld has made a slow-cooked lamb fillet with confit vegetables and finished it off with salad varieties from Tuinderij het Lichtveen. First impressions of Marjel from Grebbeveld who was allowed to taste it: "Divinely delicious! And a real StreekWaar menu." When are you going to taste it too?
> Read below the blog article of Marjel from Grebbeveld Schapen &zo:
The chef and sous-chef of LEV de Wereld (the restaurant of Hotel de Wereld) had already visited to get acquainted. So when I called recently to ask if they wanted a lamb (from last year, so 11 months old), they were immediately interested. Sous-chef Mev was even very enthusiastic. He wanted it whole, so he could divide it into pieces himself, portion it, and make tasty recipes with it.
Last Friday I brought a nice large lamb, and on Monday Mev asked if I would like to come and have a taste. Of course, I didn't let myself be told that twice. Clemens (the sheep herder and Marjel's husband) was unfortunately too busy due to lambing season, but I stopped by on Monday afternoon. Sous-chef Mev showed me that he was already brewing some stock, which he will then later reduce to a tenth of the amount, so all the flavor concentrates in a sauce.
And then the moment came for me to taste it. He had made slow-cooked lamb fillet topped with a hazelnut Romanesco, with a roll of eggplant, confit green pepper and small towers of eggplant cream. And he finished it off with fresh salad varieties from Tuinderij het Lichtveen. A real StreekWaar menu, and also divinely delicious!
In short: go and taste it! Because it's only 1 lamb, it is not on the set menu, but it is in the Chef's Menu, and you can also just ask and they'll make you something delicious. We will soon try it with the whole family!
If you want to prepare lamb yourself at home, you can do that too! You can make an appointment with me to pick up the meat at our farm in the Grebbeshop, but you can also buy it at:
De Hoge Born, Bornsesteeg 87, Wageningen
Farm van Steenbergen, Dijkgraaf 1a, Bennekom
De Gieterij, Junusstraat 16, Wageningen
And of course, at the StreekWaar market stall every Saturday (9h-17h) at the Raadhuisplein in Wageningen, in the small freezer.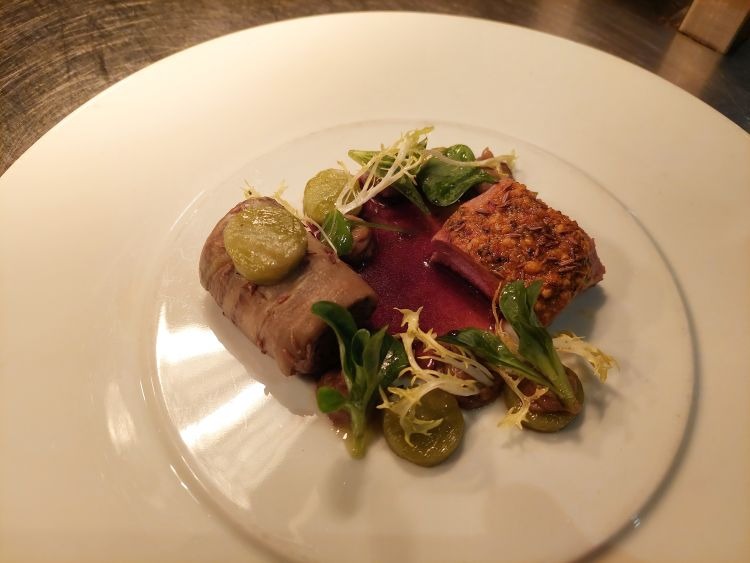 Wil je nou zelf thuis lamsvlees klaarmaken, dan kan dat natuurlijk ook! Je kunt een afspraak met me maken om het vlees op onze boerderij op te halen in de Grebbewinkel, maar je kunt het ook kopen bij: