This is the season to buy sustainably & locally! The StreekWaar members have come up with some great offers for the Christmas holidays, including: mistletoe for charity, tasty dishes to warm up at home for the holidays, (b)oliebollen for New Year's Eve and Christmas hampers with regional products.
Christmas meals
Christmas meal on Dec 24. Jeanette from Goed Gevoed prepares Christmas meals for on December 24th. > Please order no later than December 22 at 12 o'clock, using this contact form.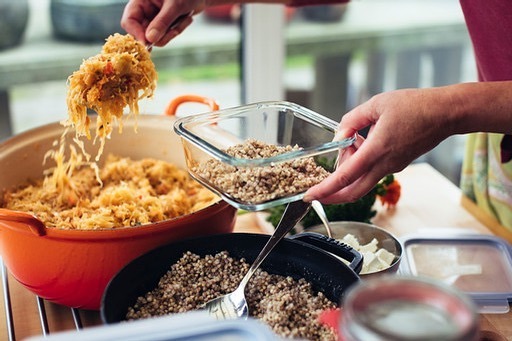 Friday December 24 (Christmas meal)
starter: Fennel soup with almonds and caraway (€3,50)
main course: Stuffed green cabbage rolls (including mushrooms, cashew nuts) and spicy tomato-carrot sauce, celeriac puree (€ 12,50)
dessert: Chocolate cake with cranberry (€ 3,50)
Various dishes for the holidays. Caterer Judith from Vreemde Streken offers various dishes with regional products for the holidays. Please order at least one day in advance. > Contact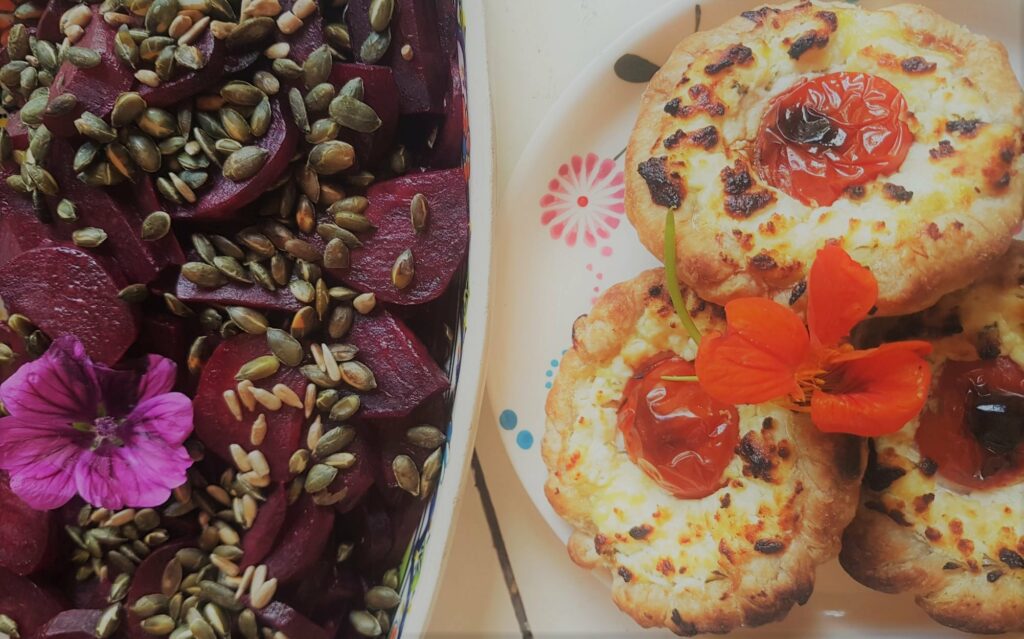 Need a hand with your meals during the Christmas holidays? Look no further! On the menu are various starters, main courses and desserts from which you can compose your own menu. The meals are vegetarian and vegan, mostly local and all organic! Ordering is necessary to avoid food waste and disappointments. Please do this at least 1 day in advance. You can get the food cold with instructions on how to prepare it, or warm ready to eat.
Soups
-split pea soup € 3,50
– pumpkin soup € 3,50
-parsnip soup € 3,50
-red lentil soup € 3,50
Side dishes
-rye bread (Veld&Beek)
-mini goat cheese with quince & fig jelly € 4,50 (Wolverlei)
-beet salad with apricots, hazelnuts, orange, ginger dressing € 3,50
-green salad with carrot, cucumber, semi-sundried tomatoes, black olives and pumpkin seeds € 3,50
-lupine hummus (choice of various flavors) including pumpkin € 3,50 per jar (LekkerLupine)
-Turkish and pita bread € 1,- / € 2,50 (Bakerij Stroop)
Main dishes
-Kushury € 5,50
-Falafel of lupine with bread, salad and sauce € 5,50 (LekkerLupine)
-oyster mushroom shawarma, with bread, salad and sauce € 6,50 (Urban Funghi)
-quiche € 2,50
Dessert
-cheesecake per slice or per pie €2,50/€7,50 (Molen de Vlijt)
-carrot cake € 2,50 / € 7,50
-brownie € 1,75
– trio of small dots € 5,50
– chocolate bun €1,-
Drinks
-Ons Bier -Blond or Tripel- (Wageningse Korenschoof) € 8,-
-mulled wine (also non-alcoholic) € 5,50
-chocolate milk (vegan) € 3,50
-juices from the region (Otto Vloedgraven) € 2,50 / € 3,50
Vegan gourmet set. Giel from Wat in het Vat zit has put together a sustainable, local and plant-based gourmet set especially for the Christmas holidays. > You can get it via our webshop or at Wat in het vat zit.
Stollen and braided brioche. Ivo from Ivo's Bread & Pizza makes some Christmas specials. You can order Christmas stollen and braided brioche for Christmas or New Year's Eve. You can also order larger quantities of the usual products. > Order in advance by filling in this form, that can be returned at the market, the Gieterij or by email to ivo@ivosbreadandpizza.nl.
Christmas gifts and hampers
Christmas hampers. De Hoge Born makes Christmas hampers with products from the region. See example here. > Available at the farm shop of de Hoge Born. At Vreemde Streken you can also buy Christmas packages, full of organic and circular delicacies from Wageningen and Europe.
Christmas gifts. You can find many of the regional products from our members at de Gieterij. Perfect to get your Christmas gifts! At Wat in het vat zit you can also buy fun and interesting gifts. > See examples here
Mistletoe bunch. de Ommuurde Tuin decorates your living room with a bunch of mistletoe, for charity: part of the proceeds go to the rainforests, in collaboration with 3FM Serious Request. > Available via our webshop and at the StreekWaar market
For New Year's Eve
(B)oliebollen! The Stadsbrouwerij Wageningen sells the most local (b)oliebollen on New Year's Eve, with flour from molen de Vlijt, and raisins soaked in bock beer (oliebollen are a traditional Dutch beignet typically eaten at New Year's Eve). > Order in advance via their webshop